Name of the Lab
1) Surveying Laboratory
Survey Laboratory -I
List of Experiments
Study of chains and its accessories
Aligning, Ranging and Chaining
Chain Traversing
Compass Traversing
Plane table surveying: Radiation
Plane table surveying: Traversing
Plane table surveying: Resection – Three point problem
Plane table surveying: Resection – Two point problem
Study of levels and levelling staff
Fly levelling using Dumpy level
Fly levelling using tilting level
Check levelling
LS and CS
Contouring
Study of Theodolite
Survey Laboratory -II
List of Experiments
Study of theodolite
Measurement of horizontal angles by reiteration and repetition and vertical angles
Theodolite survey traverse
Heights and distances – Triangulation – Single plane method.
Tacheometry – Tangential system – Stadia system – Subtense system.
Setting out works – Foundation marking – Simple curve (right/left-handed) – Transition curve.
Field observation for and Calculation of azimuth
Field work using Total Station.
Major Equipments
Plane Table
Theodolite
Dumpy level
Total Station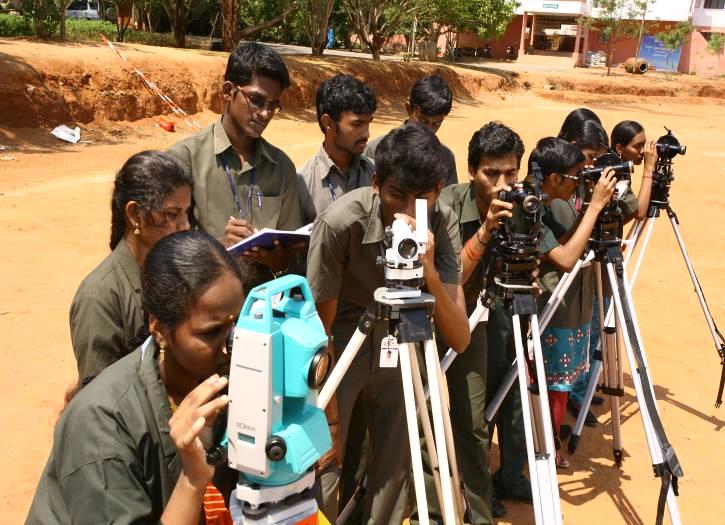 2 ) Soil Mechanics Laboratory
List of Experiments
Grain size distribution – Sieve analysis
Grain size distribution – Hydrometer analysis
Specific gravity of soil grains
Relative density of sands
Atterberg limits test
Determination of moisture – Density relationship using standard Proctor test.
Permeability determination (constant head and falling head methods)
One dimensional consolidation test (Demonstration only)
Field density test (Core cutter and sand replacement methods)
Determination of shear strength parameters.
Direct shear test on cohesionless soil
Unconfined compression test on cohesivesoil
Triaxial compression test (demonstration only)
Major Equipments
Liquid and plastic limit apparatus
Proctor compaction apparatus
UTM of minimum of 20KN capacity
Direct shear apparatus
Triaxial shear apparatus
Three gang consolidation test device
3) Concrete and Highway Engineering Laboratory
List of Experiments
I.Tests on Fresh Concrete
1.Slump cone test
Flow table
Compaction factor
Vee bee test
II. TESTS ON HARDENED CONCRETE
Compressive strength – Cube & Cylinder
Flexure test
Modulus Of Elastics
III. TESTS ON BITUMEN
1.Penetration
Softening Point
Ductility
Viscosity
Elastic Recovery
IV. TESTS ON AGGREGATES
1.Stripping
Proportioning of Aggregates
Water Absorption
Aggregate impart test
V. TESTS ON BITUMINOUS MIXES
Determination of Binder Content
Marshall Stability and Flow values
Specific Gravity
Density.
Major Equipments
UTM – 400 KN capacity / CTM – 1000 KN
Vee Bee Consistometer
Aggregate impact testing machine
Blains Apparatus
Penetration test apparatus for test on Bitumen
Ductility testing machine
Hot Air oven
Marshall testing machine
4) Environmental Engineering Laboratory
List of Experiments
Sampling and preservation methods and significance of characterization of water and wastewater.
Determination of i) PH and turbidity; ii) Hardness
Determination of iron & fluoride
Determination of residual chlorine
Determination of Chlorides
Determination of Ammonia Nitrogen
Determination of Sulphate
Determination of Optimum Coagulant Dosage
Determination of available Chlorine in Bleaching powder
Determination of dissolved oxygen
Determination of suspended, volatile and fixed solids
B.O.D. test
C.O.D. test
Introduction to Bacteriological Analysis (Demonstration only)
Major Equipments
1.PH meter
Turbidity meter
Conductivity meter
Refrigerator
BOD incubator
Muffle furnace
Hot air oven
Desiccators
Jar test apparatus
Water bath
Glass waves / Crucibles
COD apparatus
Kjeldane apparatus
Calorimeter
Chlorine comparator
Filtration assembly
5) Auto Cadd Laboratory
List of Experiments
Buildings with load bearing walls (Flat and pitched roof) -including details of doors and windows
RCC framed structures
Industrial buildings – North light roof structures – Trusses
Perspective view of one and two storey buildings
Computer Aided Design & Drafting Laboratory
List of Experiments
Design and drawing of RCC cantilever and counterfort type retaining walls with reinforcement details
Design of solid slab and RCC Tee beam bridges for IRC loading and reinforcement details
Design and drafting of Intz type water tank, Detailing of circular and rectangular water tanks
Design of plate girder bridge – Twin Girder deck type railway bridge – Truss Girder bridges – Detailed Drawings including connections
List of Equipments :
Core I3 Processor/2GB RAM/ 320 GB SATA HDD / 18.5 Inch TFT Monitor -33 Nos/.