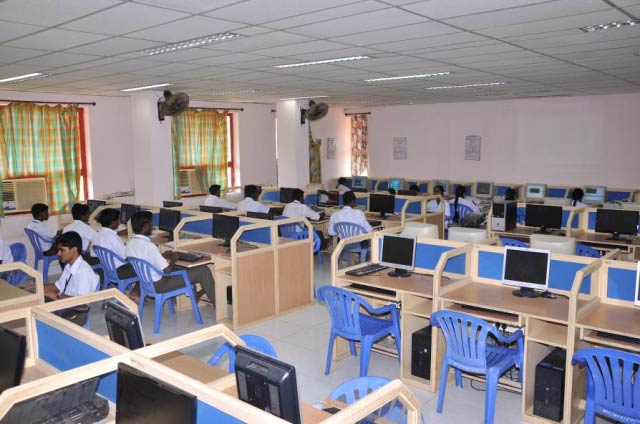 MCA LABORATORY DETAILS
S.No.
LAB / MAJOR EQUIPMENTS
Qty
1
DX2480 BUSINESS DESKTOP PC:

INTEL CORE 2 DUO E7200 PROCESSOR (2.53 GHZ, 3-MB L2 CACHE, 1066-MHZ)45 NM – MOUNTED WITH ACTIVE HEAT SINK.
INTEL@ G33 EXPRESS CHIPSET
1 GB DDR2 SYNCH DRAM PC5300 (667 MHZ) – STANDARD NON ECC MEMORY (4 DIMMS SLOT)
S.M.A.R.T IV 160 GB 3.0 GB/S 7200RPM HDD
INTEGRATED INTEL@ GRAPHICS MEDIA ACCELERATOR 3100
INTEGRATED REALTEX 8111C 10/100/1000 GIGABIT ETHERNET.
6 USB 2.0 PORTS (2-FRONT, 4-REAR), 1 VGA PORT, 1 SERIAL, 1 PARALLEL,2 PS/2 PORTS (MOUSE AND KEYBOARD), FRONT HEADPHONE AND MICROPHONE JACKS, RJ-45
PORT.
TWO (2) FULL-HEIGHT PCI 2.3 SLOT ON PCA – ONE (1) FULL- HEIGHT PCI EXPRESS X1 SLOTS ON PCA – ONE (1) FULL-HEIGHT PCI EXPRESS X16 SLOT ON PCA (FOR GRAPHICS CARDS)
300-WATTS POWER SUPPLY
HP STANDARD KEYBOARD
HP 2 BUTTON OPTICAL SCROLL MOUSE
MICRO TOWER CHASSIS WITH CHASSIS FAN
FREE DOS

HP 15″ TFT MONITOR ( A – GRADE PANEL)

55
2
HP COMPAQ d290 Desktop

INTEL Pentium Dual Core (2.8 GHZ / 4 – MB L2 CACHE).
INTEL@ 915 CHIPSET
512 MB DDR@ RAM
80 GB SATTA HDD
INTEGRATED INTEL@ GRAPHICS MEDIA ACCELERATOR 3100
INTEGRATED REALTEX 8111C 10/100/1000 GIGABIT ETHERNET.
6 USB 2.0 PORTS (2-FRONT, 4-REAR), 1 VGA PORT, 1 SERIAL, 1 PARALLEL,2 PS/2 PORTS (MOUSE AND KEYBOARD), FRONT HEADPHONE AND MICROPHONE JACKS, RJ-45 PORT.
TWO (2) FULL-HEIGHT PCI 2.3 SLOT ON PCA – ONE (1) FULL- HEIGHT
PCI EXPRESS X1 SLOTS ON PCA – ONE (1) FULL-HEIGHT PCI EXPRESS X16 SLOT ON PCA (FOR GRAPHICS CARDS)
300-WATTS POWER SUPPLY
HP STANDARD KEYBOARD
HP 2 BUTTON OPTICAL SCROLL MOUSE
MICRO TOWER CHASSIS WITH CHASSIS FAN
FREE DOS

HP 18.5″ TFT MONITOR( A – GRADE PANEL

1
3
HP dx2300 Business Desktop PC:

Intel Pentium Dual Core (2.8 Ghz/4MB L2 Cache) / 512 MB DDR2 RAM / Intel 946GZ Chipset based / 80 GB @ 7200rpm SMART III HDD-Supports one hard disk drive up to 250GB / integrated graphics /
Integrated NIC / 2 PCI,
1 PCI Express X1 Slot,
1 PCI Express X16 Slot
/ 8 USB2.0, 1 Serial , 1 parallel, 2 PS/2, 1 VGA, 1 MIC-In, 1 Audio-Out,
1 RJ-45 / High Definition Audio with Internal Speakers / 250W Surge tolerant power up to 2000v / 15″ HP TFT Monitor

10
4
HP Proliant Server ML 110G3

Uni – Processor Capable / Intel
E7230 Server Chipset / p4 3.0 GHZ (800 MHZ FSB) with 2048KB 1.2 cache / 512 MBX4 PC2 4200 DDR II memory / Integrated 2 ports embedded SATA RAID (RAID levels 0.1) / 80 GBx2 SATA HDD / 2 drop Internal SATA Cable / 3-1-1 warranty

1
5
MASTER MIND COMPUTER WITH

INTEL PENTIUM IV @ 1.6 GHZ
512 MB DDR RAM / INTEL 810 MBD
1.44 MB FDD / 40 GB HDD
15″ SVGA COLOR MONITOR
AGP & SND CARD ONBOARD
107 KEY KEYBOARD
2 SERIAL & 1 PARALLEL PORTS
MINI TOWER CABINET / MOUSE
10 – 100 MBPS ETHERNET CARD

22
6
UPS ONE SET (30 BATTERY) OF 360 V- DC – 20 KVA 3 PHASE INPUT & SINGLE PHASE OUTPUT
True Power UPS
1
7
Windows AC 2.0 TR Optima Window Room A/C & 1.5 Tr Options Window Room AC
1
8
Power Sum Cat-5 cable
Cat 5 single I/O with Singlex Faceplate
Cat 5 24 Port Jack Panel
Patch cord – 1mtr & Patch Cord – 2 mtr
19″ 17U Communication Rack
1
9
Epson CX1170 + II Printer
2
10
Samsung ML 1610 Printer
1
11
TVS MSP 245 Dot Matrix Printer
1
12
TVS MSP 355 Dot Matrix Printer
1
13
Wipro LQ 540 24 pin 80 coln Dot Matrix Printer
2
Name of the Lab
PROGRAMMING AND DATA STRUCTURES LAB- MC9217
Stack and Queue
Binary tree Traversals
Merge Sort
DFS and BFS
Warshall's Algorithm
Dijkstra's Algorithm
Huffman's Algorithm
Insertion Sort
DBMS LAB- MC9218
Creation of base tables and views.
Data Manipulation
INSERT, DELETE and UPDATE in tables
SELECT, Sub Queries and JOIN
Data Control Commands
High level language extensions – PL/SQL. Or Transact SQL
Use of Cursors, Procedures and Functions
Embedded SQL or Database Connectivity.
Oracle or SQL Server Triggers.
Working with Forms, Menus and Reports.
Front-end tools – Visual Basic/Developer 2000.
OBJECT ORIENTED PROGRAMMING LAB- MC9227
Write a C++ Program to illustrate Enumeration and Function Overloading
Write a C++ Program to illustrate Scope and Storage class
Implementation of ADT such as Stack and Queues
Write a C++ Program to illustrate the use of Constructors and Destructors and Constructor Overloading
Write a Program to illustrate Static member and methods
Write a Program to illustrate Bit fields
Write a Program to overload as binary operator, friend and member function
Write a Program to overload unary operator in Postfix and Prefix form as member and friend function
Write a Program to illustrate Iterators and Containers
Write a C++ Program to illustrate function templates
Write a C++ Program to illustrate template class
Write C++ Programs and incorporating various forms of Inheritance
Write a C++ Program to illustrate Virtual functions
Exception Handling
SYSTEM SOFTWARE LAB – MC9228
Assemblers.
Linkers.
Loaders.
Features of text editors.
Basic UNIX commands.
Shell Programming.
Grep, sed, awk.
File system related system calls.
Process management – Fork, Exec.
Message queues.
Pipe, FIFO's.
Signals.
Shared memory.
ALGORITHMS LAB- MC9229
Quick Sort
Binary Search
Binary Tree Traversal
Warshall's Algorithm
Dijkstra's Algorithm
Prim's Algorithm
Knapsack Problem – Dynamic Programming
Subset Sum Problem – Backtracking
Travelling salesperson problem – Branch and Bound
Strassen's matrix multiplication
GRAPHICS LAB – MC9237
TWO DIMENSIONAL TRANSFORMATIONS

Creation of two dimensional objects and applying simple transformations like Translation, Scaling, Rotation and applying Composite transformations.

THREE DIMENSIONAL TRANSFORMATIONS

Creation of simple three dimensional objects like cube, cone and cylinder and applying simple transformations like Translation, Scaling, Rotation and applying Composite transformations.

VISIBLE SURFACE DETECTION

Finding out visible surfaces and removal of hidden surfaces in simple objects using object space and image space algorithms.

IMAGE EDITING

Image enhancement, Image transformation from color to gray scale and vice versa, Image manipulation and Image optimization for web – Usage of editing tools, layers, filters, special effects and color modes. Creation of simple Gif animated images with textual illustrations.
MICROPROCESSOR LAB- MC9238
Study of BIOS and DOS function calls for keyboard & Display interfacing
Assembly Language Programming with 8086 to perform the following operation

Arithmetic & Logical Operation
String Manipulation Operation
File Manipulation Operation
Terminate and Stay Resident (TSR) Program

Using Assembly Language with C/C++
Perform the following interfacing concepts with a microprocessor chip

Traffic signal controller using 8255 PPI
Stepper Motor controller using 8255 PPI
ADC/DAC interface
Waveform generation using 8253/8254 Timers
DC Motor Speed Controller
Keyboard/Display Controller using 8279
WEB PROGRAMMING LAB – MC9238
Studying internet connection procedures
Sending and receiving mails from one or more email clients
Video Conferencing demonstration
Downloading and installing softwares (Example: Java) and setting up path and class path Using FTP
Creation of web site with forms, frames, links, tables etc with any web page editors and using images and audio files as part of web pages
Writing Java programs by making use of class, interface, package, etc for the following
Different types of inheritance study
Uses of 'this' keyword
Polymorphism
Creation of user specific packages
Creation of jar files and using them
User specific exception handling
Writing window based GUI applications using frames and applets such as Calculator application, Fahrenheit to Centigrade conversion etc
Application of threads examples
Reading and writing text files
Reading image files and manipulating them with image related classes and methods
writing an RMI application to access a remote method
Writing a Servlet program with database connectivity for a web based application such as students result status checking, PNR number enquiry etc
Creation and usage of Java bean
VISUAL PROGRAMMING LAB – MC9246
VB
Form Design – Keyboard & Mouse events
Programs on usage of data types – variant, Control arrays
Simple applications using file system controls
Database applications using data control.
VC++
SDK type programs for creating simple windows with different window styles
SDK type programs code for keyboard and mouse events, GDI objects.
Simple Dialog Based application – eg. Calculator, interest computation, money conversions, etc.
Creating SDI & MDI applications, Modal and Modeless dialog.
Programming for reading and writing into documents.
Coding Dynamic controls – slider control, progress control, inheriting CtreeView and CricheditView.
Creating static and dynamic splitter windows
Creating DLLs and using them.
Winsock and WinInet & Internet Explorer common controls.
Data access through ODBC – Cdatabase, Crecordset.
Creating ActiveX control and using it.
NETWORK PROGRAMMING LAB- MC9247
Socket Programming

TCP Sockets
UDP Sockets
Applications using Sockets

Simulation of Sliding Window Protocol
Simulation of Routing Protocols
RPC
Development of applications such as DNS/ HTTP/ E – mail/ Multi – user Chat
CASE TOOLS LAB – MC9248
Practicing the different types of case tools such as (Rational Rose & other Open Source) used for all the phases of Software development life cycle.
Data modeling
Semantic data modeling
Source code generators
Re-engineering
Experimenting CASE Environments

Toolkits
Language-centered
Integrated
Fourth generation
Process-centered

Implementation of the following using CASE Workbenches

Business planning and modeling
Analysis and design
User-interface development
Programming
Verification and validation
Maintenance and reverse engineering
Configuration management
Project management
MIDDLEWARE TECHNOLOGY LAB – MC9254
Apply the following to typical application problems:
Java rmi
CORBA
COM
C# and .NET
A possible set of applications may be the following:
Typical experiment to investigate client-server communication
Typical experiment to investigate the workings of RMI
Typical experiment to investigate the use of CORBA technology with Java.
Chat Room
Designing of e-business
Online games
SOFTWARE DEVELOPMENT LAB- MC9255
Apply the following to typical application problems:
Project Planning
Software Requirement Analysis
Software Estimation
Software Design
Data Modelling & Implementation
Software Testing
Software Debugging
A possible set of applications may be the following:
Library System
Student Marks Analyzing System
Text Editor
Create a dictionary
Telephone dictionary
Simulator Software for Parallel Processing Operation
Inventory System