Students Counselling Cell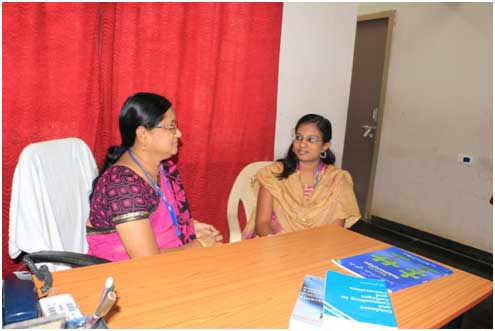 Students Counselling Cell was established in the year 2008. The Management has taken personal interest in the setting up of the cell. In and around Villupuram and Cuddalore District, Mailam Engineering College is the only college which has the Students Counselling Cell. The Cell has been established by keeping in mind the problems of students. Our youngsters, the most vulnerable section of the society, can be easily misled, trapped and resort to undesirable activities. Hence the Cell plays a major role in guiding the students to move along the right path towards their destination.
The counselling cell of the MEC is imparting its services to the students. The cell conducts the meeting to know the problems of the students and counselling are given to those who face problems.
Dr. T. Vijayakumari, the student counsellor, is a Ph.D. in Psychology from Dravidian University. She has rich psychological experience in counselling and training. She has conducted a number of workshops and seminars for teachers, parents and students related to behaviour problems, mental health etc.
The counsellor helps the students to resolve their problems in a positive way by helping them to analyze the problems develop strategies and find out solutions. Common Personal concerns include grief, relationship difficulties, anxiety and depression etc., The problems are solved in a confidential discussion between the student and the counsellor about personal soul and emotional issue. Later students develop decision making skills which have been needed to meet the challenges of living and learning. Students can develop Self-awareness / Self-realization, individualization, problem-solving skill, acquisition of social skills, behaviours and cognitive change, self-decision making abilities and empowerment etc.,