About the Department
Objectives
DOMS has been inaugurated in the year 2006 with a sanctioned intake of 60 students. Now it has been increased to 120 students in the year 2012.
Follows activity based learning methodology
Utilizing hi-tech teaching aids.
Well equipped computer lab with SPSS and business application software.
Organizes various faculty development programmes.
Upgrading the students' practical knowledge by organizing guest lecturers and seminars.
Exposing the students to the practical world by taking them to various industries
Issuing business newspapers to the students like Business Line, Business Standards and The Economic Times to update day-to-day business data.
Vision
Our vision is to become the centre of attraction for management studies for high quality value based education, teaching and research that advances students learning, creativity, assertiveness, managerial careers and frontiers of management knowledge, thereby the business community will have a gravitational pull towards our students stock.
Mission
Our mission is to create an intellectual, stimulating, learning environment which develops a strong knowledge base pertinent to problem solving, decision – making, incorporating innovative technologies and cutting – edge management practices into our curriculum.
HOD'S Message

Prof.M. Arokiaraj @ John
HOD for MBA
Welcome to the Department of Management Studies at Mailam Engineering College. The Department seeks to combine excellence in education and research with service to the industry. Our goal is to provide students with a balance of intellectual and practical experiences that enable them to serve a variety of societal needs. The Department offers MBA degree with the specialization covered is Human Resources Management, Marketing and Finance.
We produce Post Graduates to become future leaders for industry, academia, government and society whose vision is founded upon fundamental knowledge, creative and analytical skills. Through a nice blend of course work and projects, the department endows students with the ability to apply knowledge of Management to work effectively in multidisciplinary teams.
The faculty of the department covers a wide range of management areas such as Marketing, Finance, Human Resource Management, etc.
This website is intended to introduce Department of Management Studies and provide information about degree plans, faculty, laboratories and facilities
Courses Offered
Electives
Finance
Marketing
Human Resource
Scope of The Programme
The Indian Corporate World are placing many MBA Professionals at the top slots in the corporate ladder. Apart from corporate careers, one can opt for entrepreneurship, work in co-operatives, NGOs as the opportunities are literally unlimited. The multi-dimensional & multi –tasking quality of MBA Professionals make them to serve in various sectors & areas even when the industry hits the doldrums. Today a Management degree has become an attractive proposition, as there are attractive entry level salaries & typically they can get job opportunities in Multi-national Company.
Departmental Activity
Seminars / Conferences
Students Association of Management Studies (SAMS) was inaugurated on IT October 2015. Mr. Ashley Carter, Managing Director MVA Leather works Limited, Puducherry was the chief guest and gave the inaugural address. He made the office bearers to sworn in for SAMS and read the pledge which was followed by the members.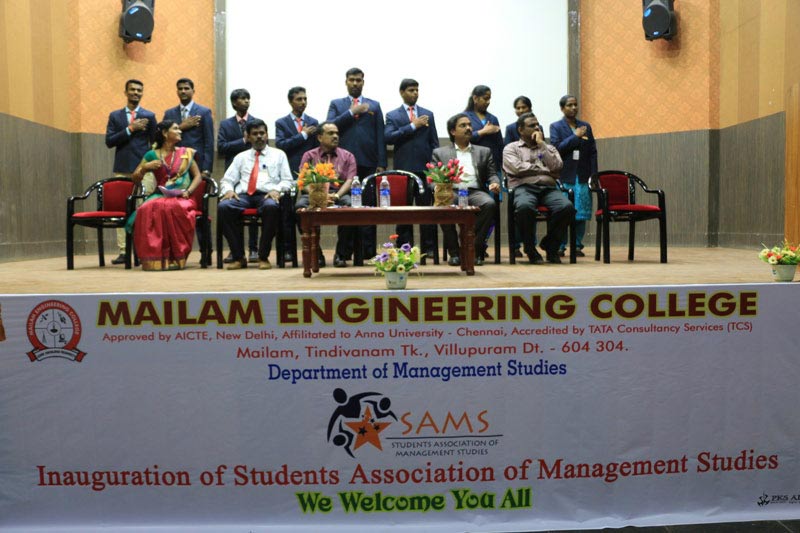 Students taking Pledge in SAMS Inauguration
The Departments of Management Studies and Computer Applications jointly organized CONQUER '16: Career Guidance programme for the final year Arts and Science (UG) students on 1201 March 2016. Around 600 Final year students from 21 colleges participated in this programme.
The programme was inaugurated by our Chairman and Managing Director Shri. M. Dhanasekaran, and felicitated by Vice-chairman Shri. S. V. Sugumaran, M.L.A. and Secretary Dr. Narayanasamy Kesavan. Shri Ramesh Prabbha, Educationist was the resource person for the career Guidance programme. He explained about the job opportunities for MBA and MCA courses and also the employability skills required for the students. He gave a thought provoking speech for the audience.
In connection to this programme, the Department of Management Studies and Computer Applications had organized various Management and Technical competitions for the participants. Best performed students were given cash award and the total cash prize is Rs. 60,000.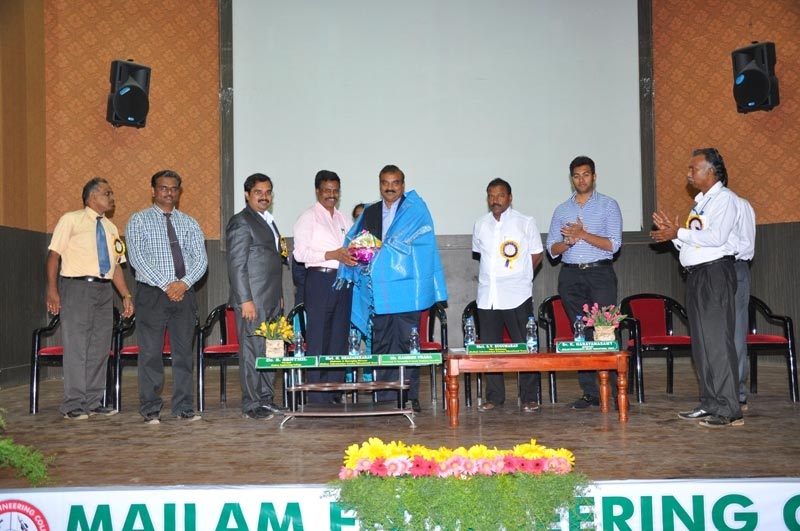 Our Chairman honouring the chief guest
Apart from the major events, other events such as Rangoli, Mehendi, Poster presentation, Jewellery Making, Just a Minute, Soap carving, Clay modeling and Pencil sketch competitions were organized and cash awards were given to the winners.
At the end of the programme, certificates were distributed to the winners and participants.
The Department has indulged in the process of producing high caliber managers to the corporate world. In order to enhance the skills of the MBA students, the department has organized various activities in the even semester of 2015-16 academic year. The activities are described below in chronological order.
On 20tl February 2016, the department initiated the activities for students by organizing Ad-Zap and Business Quiz. Ad-Zap has been organized by the Advertising Cell. About 8 teams participated with 6 members in a team. On the same day afternoon Business Quiz was conducted separately for First and Second Year Students, each with 10 teams. The rounds in the Business Quiz are CEO round, Logo round, Mascots round, and Audio Video round.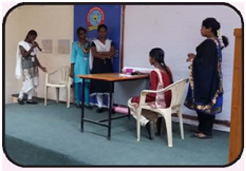 A team exhibiting their Ad in Ad Zap competition
On 27h February 2016, the department organized a Seminar on Business Opportunities in Food Processing with the support of Indian Institute of Crop Processing Technology, Thanjavur. Smt. R. Vidyalakshmi, Scientist of IICPT had been invited to address the students on above said topic. The event started traditionally and our Principal Dr. S. Senthil gave the presidential address stating the purpose of organizing events to MBA students and also its usefulness. The guest gave a detailed lecture on Business Opportunities in Food and Crop Processing and showed lively examples and explained the kinds of training given to the needy people in their institute.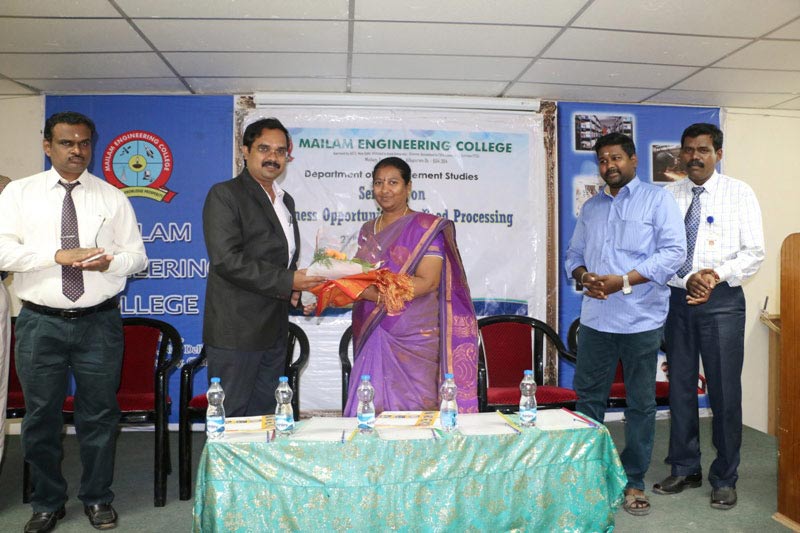 Dr. S. Senthil, Principal, MEC honouring the Chief Guest Mrs. R. Vidyalakshmi, Scientist, IICPT, Thanjavur. Dean Dr. R. Rajappan looks on
On March 2016, events such as Slogan Writing, Logo Designing, Sale Enact and Group Discussion were organized.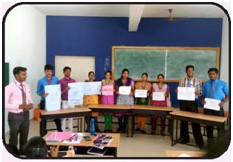 Logo Designing Competition
Group Discussion event Department of Management Studies (DOMS)
On 17th March 2016, DOMS has organized an Entrepreneurship Awareness Programme for incubating the thought of self employment in the minds of MBA students. The forenoon session was engaged by Mr. A. Rajarajan, General Manager, District Industries Centre, Villupuram. He gave full details about the government support for starting a new venture, and the subsidies given for each kind of business. He also defined the kinds of enterprises which can be started by an entrepreneur and he listed some successful entrepreneurs of Villupuram region.
Seminar on Entrepreneurship Awareness Programme
On 2M April 2016 the department has organized a Seminar on Financial Markets in order to expose the students to the field of Share Market, Commodity Market and FOREX Market. Mr. Md. Shameer, Business Development Manager, Geojit BNP Paribas Ltd. was the guest and addressed the students about various kinds of investments and explained about online share trading.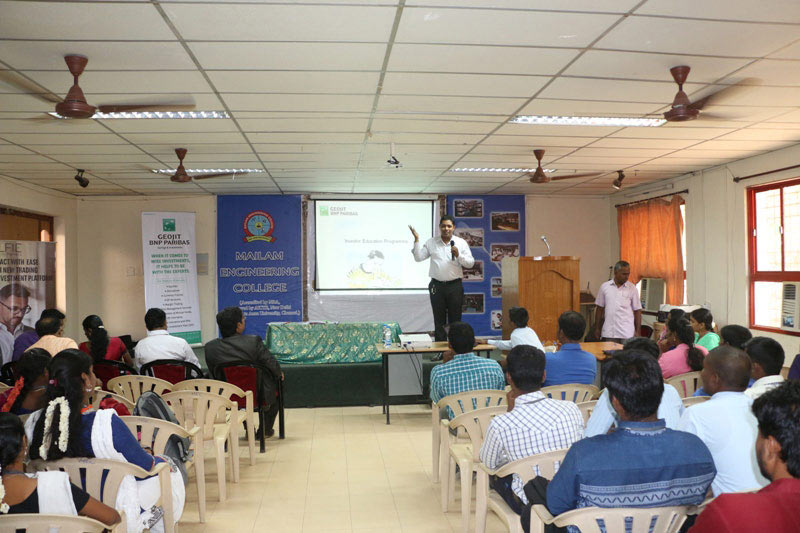 Md. Shameer, Business Development Manager, Geojit BNP Paribas Ltd., addressing the students
On 1 60′ April 2016, the forenoon session was engaged with the contests of Product Photography and New Product Development. Many students participated in this contests and exhibited their talents. Categories of New product development are chocolates, soft drinks and eatables.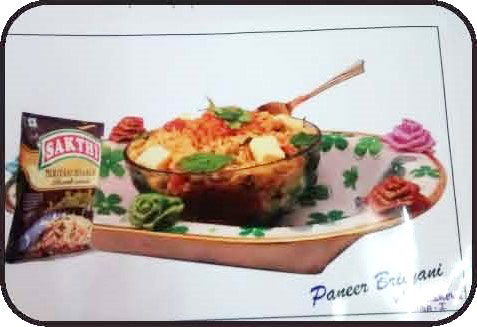 Product Photography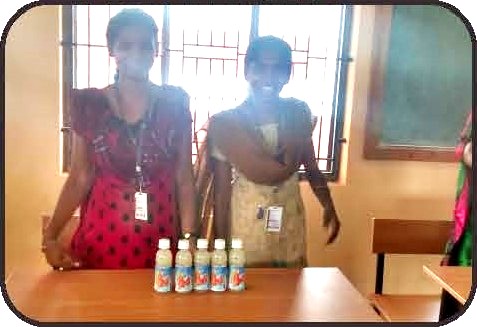 New Product Development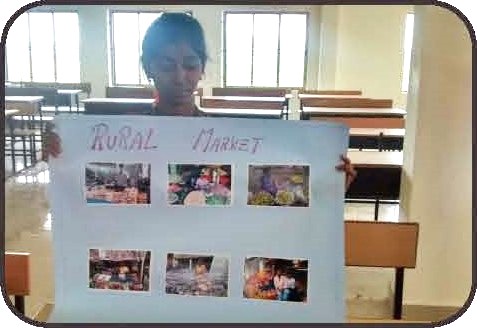 Rural Market Photography
In the post lunch session a speech from Ad agency person took place. Mr. Bharathi Babu, Creative Head, Lemuriya Olithirai, Chennai addressed the students about ad making, job opportunities in ad industry and the role of MBA students in ad agency. Students interacted more with the guest and got a bird's eye view about ad agency and ad industry.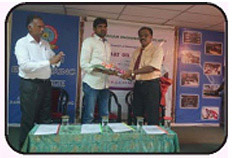 Chief Guest Mr. Bharathi Babu in honoured by Professor Dr. M.Sivakumar
Activities
Staff Activities
Students Activities
Selvi. D.Gnanasoundari and Selvi. S . Indhuja of II MBA presented a paper in an "International Conference on "Global work place by the year 2020", organized by Vidhya Sagar Women's College, Chengelpattu on 12th Sep 2014.
Selvi. S.Rehana Banu, Selvi P.Revathi, D.Suganthi, N. Sudha J. Vineetha Preethy of II MBA participated in AD ZAP competition in an International Conference on "Global work place by the year 2020", organized by Vidhya Sagar Women's College, Chengelpattu on 12th Sep 2014.
Selvi. R. Kavitha and Selvi. B.Madhumathi of II MBA participated in Crossword Competition held at "International Conference on "Global work place by the year 2020", organized by Vidhya Sagar Women's College, Chengelpattu on 12th Sep 2014.
Selvi.R.Kavitha,Selvi.B.Madhumathi ,Selvi. A. Indumathi, Selvi. R. Anandhi of II MBA participated in the competition CONNECTION in an International Conference on "Global work place by the year 2020", organized by Vidhya Sagar Women's College, Chengelpattu on 12th Sep 2014.
Selvi P.Revathi, Selvi. D.Suganthi, Selvi. N. Sudha, Selvi. J. Vineetha Preethy, Selvi. R. Kavitha, Selvi. B.Madhumathi, Selvi. R. Suganya, and Selvi. A. Abirami of II MBA attended a State level Seminar on "Organisational Capacity Building in a Dynamic Environment" organized by Theivanai Ammal College for Women, Villupuram on 17th Sep 2014.
Selvan. R. Sarathkumar, Selvan. K.Premkumar, Selvan. S. Ragul@ Jalil Ahamadu, Selvan. L. Srithar, Selvan. A. Velraj, Selvan. R. Sankar, Selvan. R. Anbarasan, Selvan. S. Muralidharan, Selvan S. Chandra Prakash, Selvan R. Balaraman and Selvan. P. Jeeva of II MBA participated in a National Workshop on "Innovative Approaches in Entrepreneurial Development" organized by Saradha Gangadharan College, Puducherry on 27th Sep 2014.
Selvan. M. Silambarasan, Selvan. K. Selvamani, Selvan. M . Tamilvannan, Selvan. A. Manoj, Selvan R. Loganathan, Selvan. B.Manikandan, Selvan. E. Kumaresan of I MBA participated in events, Business Plan, Dumb Charades and Business Quiz at "BIZZ GALAXY-14", an All India Management Meet organized by Galaxy Institute of Management, Chennai on 11th Oct 2014.
Selvan. M. Silambarasan, Selvan. A. Varadarajan, Selvan. M. Tamilvannan, Selvan. A.R.Manoj, Selvan. R.Loganathan, Selvan. R.Vengatesan, Selvan. S .Jayabalan, Selvan. B. Kumaravel, Selven. K.Madhiazhagan and Selvan. K. Madhankumar of I MBA participated in various events and won I prize and cash award of Rs. 1000 in the competition "CONNECTION" at National Level Seminar Cum Workshop on "Financial Planning for Young Investors" organized by Karpaga Vinayaga College of Engineering and Technology, Chennai,on 17th March 2015.
Selvi. G.Kalaivani, Selvi. J. Jayabharathi, Selvi. B.Sopna, Selvi. K. Sindhuja, Selvi. E.Sudha, Selvi. K. R. Mounika, Selvi. R.Ranjitha, Selvi. M.Priyanka, Selvi. K.Kalaimathy, Selvi. A.Anbarasan, Selvi. R. Jayasudha, Selvi. K.Jayasri and Selvi. D.Ramya of I MBA presented papers in a One Day National Seminar on "Management Innovative Strategies and Techniques-MIST'15" organized by Dr. Paul's Engineering College, Vanur on 19th March 2015.
Lab Facilities
DEPARTMENT OF MANAGEMENT STUDIES (DOMS)
DEPARTMENT LABORATORY
DOMS is furnished with a separate lab of 32 systems of high configuration & latest version of the following software:
Tally
TORA
SPSS
Oracle
MS Office tools.
VB